Mark your calendar for March 11 for a jam-packed afternoon of SOFAAR events, all at St. Luke's Church Hall in Annapolis Royal. Here's what's happening:
1 p.m.  – Annual General Meeting
2 – 4 p.m. – Fabulous Fibre Stash Sale & Giveaway — see details below
2 – 4 p.m. – Play Time! We'll have chairs set up and the tea kettle on. After you check out the Stash Sale & Giveaway, you can try out your new treasures or work on your latest project (or a UFO you've been meaning to finish) and knit, hook, stitch, spin or otherwise play with fibre.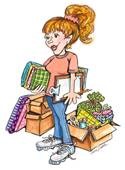 Fabulous Fibre Stash Sale & Giveaway
Here's your chance to reduce, increase or revitalize your fibre stash! Following SOFAAR's AGM on March 11, we're promoting a fabulous fibre stash bash. There will be tables of fibre supplies for sale and giveaway. The public is invited and we'll advertise the event widely. Here's how you can participate:
Reserve an individual table to sell your work, or share one with a friend (you work out the sharing details). Cost for a 6-ft table is $10, and you tend your own table.
Donate items to SOFAAR. We'll sort them into "sale" and "give-away" categories, display them and staff the tables. Funds raised from SOFAAR sales will help finance our programs for the year.
Use the opportunity to add to your stash at bargain prices! ·Tell your friends about the sale and encourage them to come.
If you want to reserve a table, contact grace.butland@bellaliant.net by February 28. If you have items to donate to the SOFAAR tables, please get them to Christine Igot (Christine@latext.com) by February 24.