Not one but two wonderful fibre exhibits to see in the month of September. Opening receptions are the weekend of September 8th and 9th.
East meets West is a joint exhibit with the Vancouver Surface Design Association. This exhibit will be at the King's Theatre Lobby from August 30th to November 3th. The opening reception will take place on Saturday evening, September 8th at 7 pm and will be joined via video link with the opening at the Portal's Gallery in Ducan BC.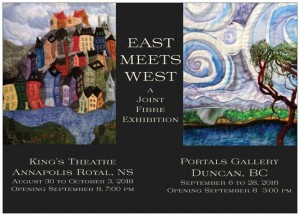 The Art of Fibre is a SOFAAR members' exhibit taking place at the Chapel Gallery at ARCAC in Annapolis Royal from September 2nd to October 13th, 2018. The opening reception will take place Sunday afternoon, September 9th from 1 – 3 pm.